Move over, hot tubs. The latest craze to hit the UK is an at-home sauna, inspired by Finnish culture. Find out what they are, what they do, and how they could benefit you in our blog – as well as plenty of guidance on building your own.
What is a wood-burning sauna?
It's a wood-paneled room – or even barrel – where the air inside is heated. Scientifically, the practice is called "whole-body thermotherapy", and it's been used all over the world since time immemorial to promote health and hygiene, as well as connect people for spiritual and social reasons.
Traditionally, saunas are powered by burning wood – hence the name. You can choose to build one inside or outside your home, but in this blog, we'll focus on an outdoor wood-burning sauna.
Why have a wood-burning sauna?
First, let's get into a few common questions people have about saunas. Many people take up sauna bathing because it's been linked to a whole host of health and wellbeing benefits, including:
Detoxifying the body
Boosting metabolism and energy
Supporting weight loss
Supporting immune function
Increasing blood circulation
Reducing pain and stress
Rejuvenating the skin
Improving sleep
Studies in these areas are a little scant, so its worth taking this with a pinch of salt, but experts think that heating the body in this way produces a kind of short-term stress that activates some key internal processes. Whatever the case, most people agree that having a session in a wood-burning sauna leaves them feeling positive, refreshed and energised. There's little surprise that saunas have become a mainstay in many beauty salons, health spas and massage clinics across the UK, and their popularity – and potential benefits – are becoming more ingrained.
How do I build my own wood-burning sauna?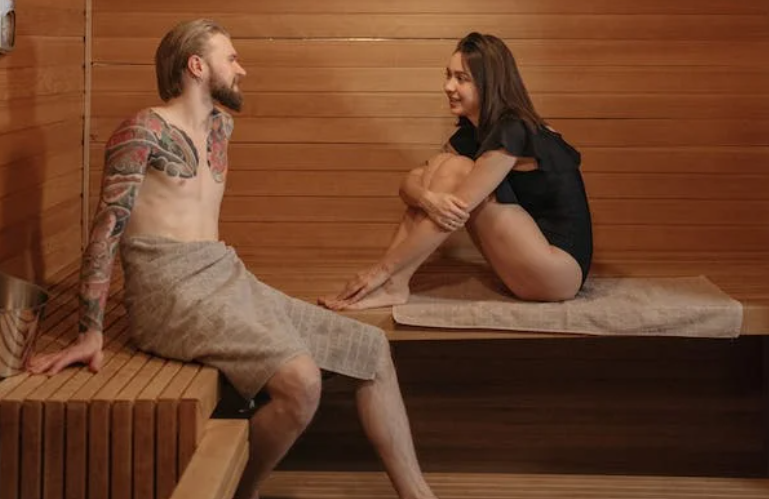 We've outlined some of the steps below.
1. Plan your build
Will it be a barrel, a cabin or a converted room or building – like your garden shed? What type and colour of wood are you looking for? Do you want to build from a set of online plans, an all-in-one kit or create something unique? You'll also need to consider how you'll have acess to power and water, and how close you'll want to be to your house. Don't forget, structures in your garden may also need planning permission.
2. Gather your tools
You won't get far without a solid set of tools – and it's one area you won't want to scrimp on. As a minimum, we'd suggest:
An impact driver and drill driver
A jigsaw
A rubber mallet
A box of wrenches
A spirit level
3. Lay your foundation
We would only ever suggest concrete for a foundation, but it will need to be raised to prevent rot, water damage and other problems. Some people prefer to build their wood-burning sauna on a deck or patio, however.
4. Construct your build
Measure, measure and measure again. You can find downloadable plans from websites like Sauna Shop, or through searching Instructables and WikiHow. Alternatively, try a website like Etsy, or speak to a joiner in your area who might be able to draw up some more bespoke plans for you. Don't forget that you'll need to build benches in the interior for sitting or lying on.
When should I use my wood-burning sauna?
Some people use their sauna every day, as it's linked to several health and wellbeing benefits. In fact, it can help to sauna after a workout. The time you spend on a session, though, varies. Saunas can get incredibly hot – up to around 200F or around 93C – and anywhere from 20-30 minutes is usually enough. You can factor in breaks, though, if you'd like to use if for longer. Basically, it's up to you.
What do people do in a wood-burning sauna?
Anything! Chill out with music or a podcast, read, or just relax. Some people like to do light stretching exercises. Others take the time to be mindful or practise meditating. And others still use their sauna with friends and family and bring a cold beer or glass of wine with them (though take care not to get dehydrated, as alcohol is a diuretic). The one thing to bear in mind is that the point of saunas is to get hot and sweaty, so it might be difficult to do an activity at the same time.
Talk to our expert team today
For advice on all things wood-burner, speak to our friendly Logwise staff. We sell a wide range of fuel for all kinds of projects.