Now, we're all about sitting in front of a blazing fire, feeling that pleasant warmth wash over us and listening to the soothing snaps and crackles. But logs have many other uses, and one of our favourites is interior decorating.
Logs have become a super trendy and affordable way to bring a bit of sophistication and glamour to your home decor. And there are countless ways to utilise logs in this manner.
In this article, we will explore different ways you can use logs decoratively, as well as the things you need to consider before you do so.
Let's get decorating!
Interior decorating can be a daunting prospect so we've come up with some ideas to get you inspired.
Decorating with baskets
A wicker basket brimming with logs is a great way to add a little bit of charm to any room.
This is a great option for the more modest-sized home, requiring little space but making a big impact.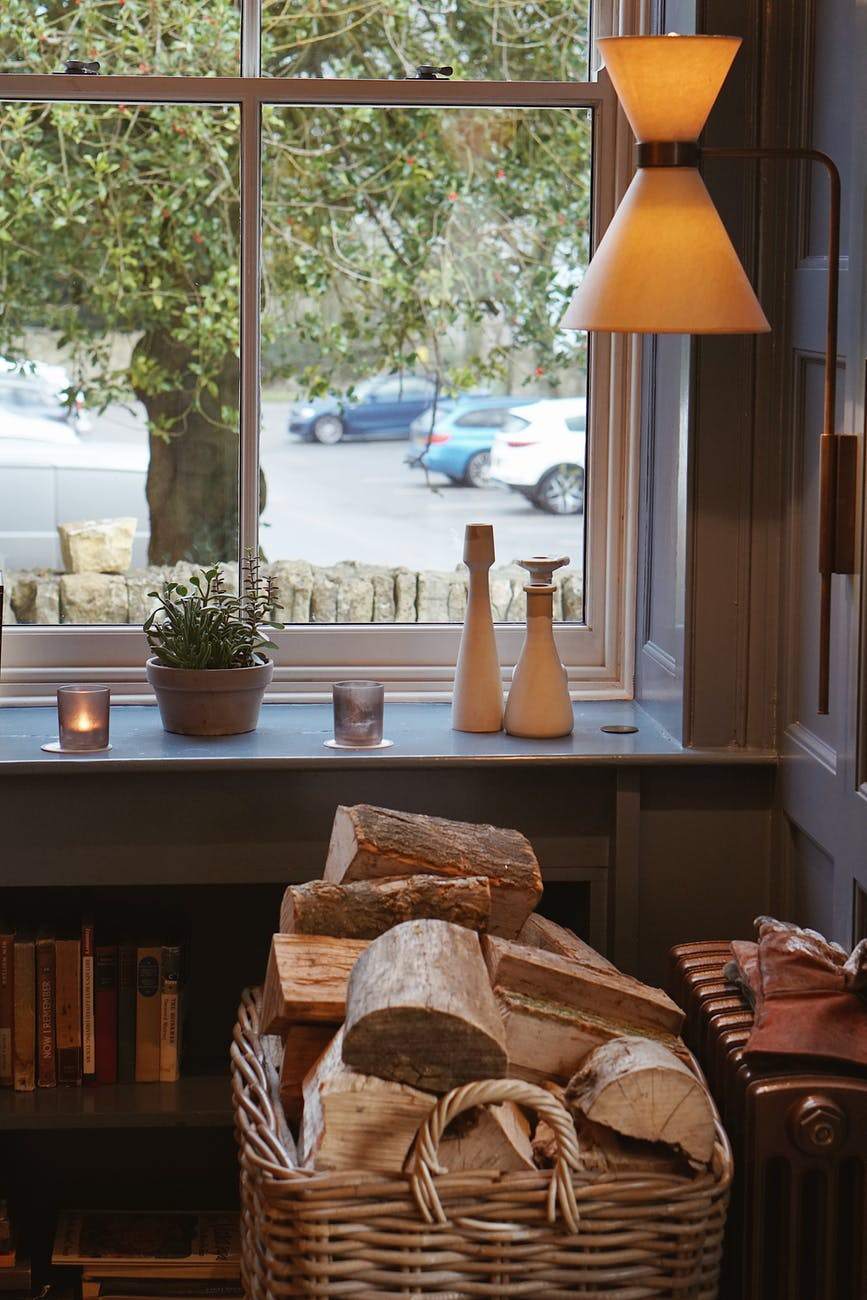 Decorating a bricked up fireplace
These days a lot of homes have old fireplaces which have been bricked up which can create an awkward, ugly, empty space.
Popping in a pile of empty logs can instantly transform the disused fireplace, giving the room a cosy, homey, lived-in feel.
Beautify a bookshelf
A bookshelf is a perfect spot for a carefully curated log pile.
This is a great way to break up the space and add a point of interest to the room. This is an occasion where you will want to ensure the logs are all the same length, otherwise, they will hang over the edge and make things look messy.
Fairy lights for a bit of magic
If the firewood alone isn't enough for you why not a little further?
Adorning the logs with fairy lights can be a game-changer and make your home feel that bit more magical.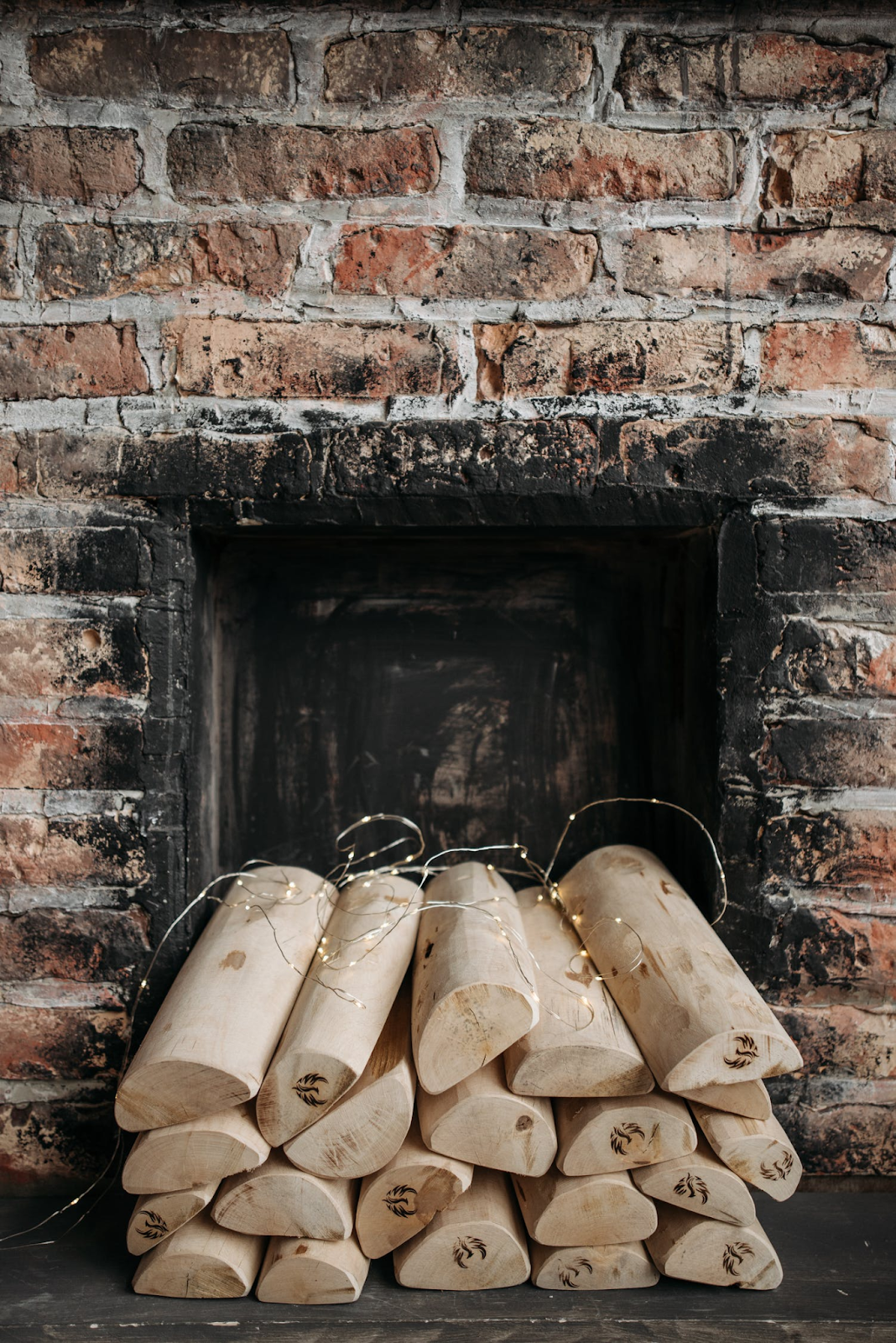 You could also repaint the wall next to where you've chosen to place your log pile to match the tone of the wood. This will certainly make the display pop and is a simple way to give the look a final, professional finish.
Things to consider before using logs decoratively
Before you get started there are a few key factors you will want to consider before getting creative.
How much space are you working with?
We advise getting the old measuring tape out and jotting down the dimensions of the space you want to use. 
Logs come in a variety of shapes and sizes however, typically they measure about 12 inches in length.
You may need to cut the wood to your desired length. Take care to cut the wood evenly, and give the ends a sand to avoid getting splinters when you brush past it.
Don't worry if the logs vary in thickness though as this can create a more characterful and charming aesthetic.
What type of wood should you use?
There's no strict rule of thumb for the type of wood you should use.
For a more rustic look, we recommend mixing it up a bit and a few different types of firewood. Choosing wood with different colours and textures will give it that "freshly chopped wood" vibe and are perfect for a country farmhouse theme.
For a more modern, minimalist approach you may want to go for a more uniform look, choosing one type of wood and cutting it all to the same length for a neater, tidier feel.
How do I avoid bringing insects into my home?
The last thing you want is for your beautiful, ornamental log pile to be crawling with bugs.
To avoid bringing insects into your home we advise that you don't use green or seasoned logs as these will almost certainly contain creepy crawlies.
Make sure the firewood you choose is completely dried as any moisture will attract pests.
How do I avoid the logs making my home smell musty?
Choosing the right wood can fill your home with a pleasant, woody aroma.
As with avoiding insects, to prevent the wood from filling your home with a musty stink, don't choose green or seasoned logs.
If you can, go for logs that have been kiln dried. This kills off mould and fungus which,  if left untreated, would make your house smell something rotten!