If you were to picture your ideal Christmas Eve home, what would you see? A cosy, softly lit room, a big comfy sofa, surrounded by your loved ones in front of a roaring fire? A beautifully decorated Christmas tree with glimpses of shiny-wrapped presents piled underneath? Maybe a Yule log ornament on the mantelpiece (or at least a chocolate version on the table…) and not forgetting the sheepskin rug – perfect for reclining in front of the fire, or the mistletoe strategically placed to catch a kiss from your beau. Tradition is tradition, after all!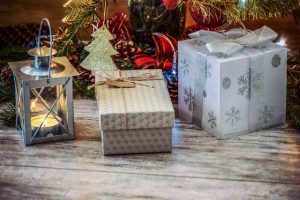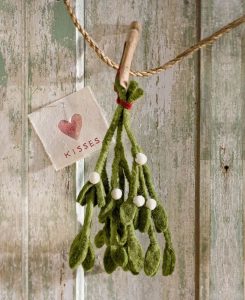 Sounds fabulous, doesn't it…?
Christmas, in our opinion, is such a wonderful time of year because it allows us that time to spend precious moments with family and friends away from the hustle and bustle of everyday life, sharing food, stories and laughter, and maybe even a glass or two of mulled wine.
These traditions of a Christmas with the family around the tree are generally credited to Charles Dickens during the 19th century but in actual fact, he was merely striving to replicate the Christmas of a bygone age, and his depictions of the festive season in his literature have done just that, ensuring that we now, some 150 + years later, still make every effort to have a perfect Christmas. Whatever a perfect Christmas means to you, for many the underpinning values will be exactly the same – family, friends, good food and drink, the giving and receiving of gifts and making it as magical as possible for our younger relatives who are on their best behaviour in a giddy anticipation of a visit from Father Christmas himself. Who still leaves out a mince pie and a carrot for Santa and his reindeer, to provide proof that he has visited? I know we do!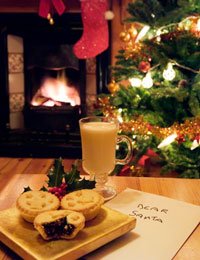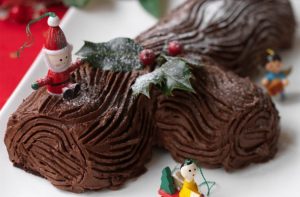 One of our favourite festive treats is a chocolate Yule log (and if you fancy making an attempt at creating your own, you can find a recipe here – tweet us some pics if you do!) but did you know why they are such a specifically 'Christmas' delicacy?
The exact origins of why a large log was brought into the house around Yule-tide are unclear, but what is known is that the log was burnt continuously for the twelve days of Christmas as early as 1184 AD, with a small part being kept aside to light the log the following year. It may be rooted in Pagan rituals, or the acquiring of firewood in a mediaeval feudal system –  there are a number of differing theories. The mostly burned log was also believed to have magical properties, and was kept in the house to ward off evil spirits and illnesses such as chill-blains and toothache, and general misfortunes like hail, mildew and lightening.
It's also thought that around the time of Anglo-Saxon paganism – practiced between the 5th and 8th centuries AD – during the dark, cold, shorter days of winter, the log symbolised the returning heat and light of the sun, and like many other customs throughout the year, once Christianity was established, this particular tradition was adapted and made to fit the theme of a Christian celebration of Christmas.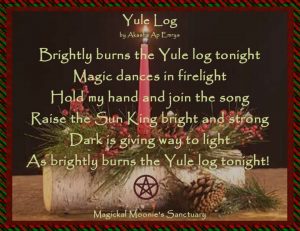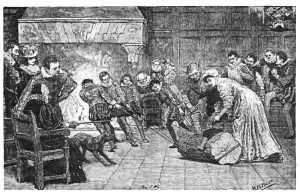 Here in Yorkshire, a more modern telling of the tradition of the Yule log is told by Mrs Day from Swaledale, in 1914:
"The Yule log is generally given, and is at once put on the hearth. It is unlucky to have to light it again after it has once been started, and it ought not go out until it has burned away. To sit around the Yule log and tell ghost stories is a great thing to do on this night, also card-playing. Two large colored candles are a Christmas present from the grocery. Just before supper on Christmas Eve (where furmety is eaten), while the Yule log is burning, all other lights are put out, and the candles are lit from the Yule log by the youngest person present. While they are lit, all are silent and wish. It is common practice for the wish to be kept a secret. Once the candles are on the table, silence may be broken. They must be allowed to burn themselves out, and no other lights may be lit that night"
So, as you can see, we may not bring a symbolic log into the house any more, but the sentiment remains the same – spending time together as a family or with friends in front of a blazing fire, playing games and eating good food, with the youngest members of the household encouraged to join in.
We think that there is something magical about a log fire, with everyone feeling cosy and warm and entranced by the flickering flames. It brings something special to spending an evening with loved ones – a sense of belonging and togetherness, and it's something we strive for and hope to contribute towards during the chillier evenings, not just at Christmas.